Blog Money-Making-Makers Online - $1,111.04 in 31 Days from these website money makers...
CHECK OUT HOW MUCH MONEY BLOGGERS REALLY MAKE ONLINE!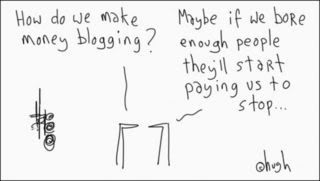 by Paula Neal Mooney
My blog's money-making-money-makers are better this month at a total of $1,111.04 -- thank You, Father -- than the
previous month's take of $736.02 in blog money making
.
So I need to really read up on
LinkWorth money making,
because other bloggers have made money thru them, but I haven't taken the time to really get on there and research them yet.
How this money-making blog make money on the internet?
Mostly from my niche TV site -- so that's my money-making blog advice in a nutshell:
Find a niche topic that's in high demand, pray, pray, pray and write well and often that provides a service to folks (especially a FREE service), load it up with ads, and they'll come-a-clickin'!
Paula's Online Income
as of October 17, 2007
Click on the links where appropriate that float your boat, sign up if you want: