»»»»»»»» Watch Army Wives Online - Full Episodes are Drawing Viewers in Droves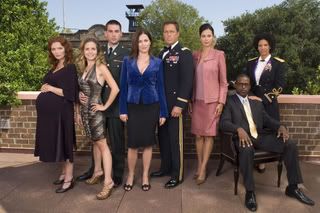 Lifetime has free, full episodes of Army Wives online here - including Season 2 Army Wives premiere episode under the "full episodes" tab.
Army Wives Season 2 Full Episodes online for cheap...
Army Wives DVD of Season 1
And the... Army Wives DVD for Season 1 is now available for sale.
You all know my new passion is
WatchFreeEpisodes.com, a site that shows you where you can watch free full- and partial-length shows like
Army Wives
online
, another of my new passions.
Lifetime
is smart in that they're running
the first two full-length hit episodes of
Army Wives
for free
on their site...and I hope they leave them there!
Sites like USA Network have wreaked a bit of havoc as of late and are sure to cause a revolt for removing
the full free episodes of
The Starter Wife
that were online and available to watch
the day after it premiered.
Watching Full-length TV Shows Online is the Future
Nothing could be more clear than the popularity of people wanting to watch their favorite full-length TV shows and movies online free (or pretty cheaply and easily) right now.
CBS.com will have full-length episodes of Big Brother 8 online
this summer for bloggers to incorporate into their blogs.
VideoHybrid
, a site that has free TV shows and movies online
has been down
for the past few days and is apparently switching to another server from the high traffic demand.
Put more legal full-length TV shows and movies online!
It AMAZES me that we cannot
watch full episodes of shows like
Oprah
and
The View
online for free
, ones that are on free TV network channels.
Hopefully they will have more than partial clips on ABC soon for those two daytime talk shows, due to high viewer demand for specific
Oprah
and
The View
shows.
So instead of playing the cat-and-mouse YouTube game of
posting copyright infringed-upon clips that are later removed
, copyright owners would be smart to offer ALL full-length episodes of free TV shows on their sites, and offer bloggers a split of the great advertising revenue who drive viewers to those shows.
And make the free full-length shows easy to access!
I don't think sites like
Joost.com
-- that make users jump thru techie hoops and download stuff that even I, being pretty techie, STILL haven't figured out how to use and get beyond the errors I received -- will be enormously popular in the long run.
Heck, if people are feeling trepidation about downloading ABC.com's simple player to watch their full-length shows online, I think Joost.com and others may prove a bit too complicated for average web users.
Watch Free Episodes Dot Com Moguls
Webpreneurs who get in on this amazingly fast growing trend of viewers wanting to watch most all of their TV shows online -- after all, more and more people are using their plasma TV screens as their computer monitors -- may find themselves sitting on Oprah's couch one day telling Oprah how they made millions from getting in on the start of the trend.
And they'll return home to watch how they fared on
The Oprah Winfrey Show
by Googling the full episode -- available for free online.
Watch full and partial episodes of your favorite TV shows and movies online -- all for free!