3 Lbs Cast Pic...I'm still a real journalist!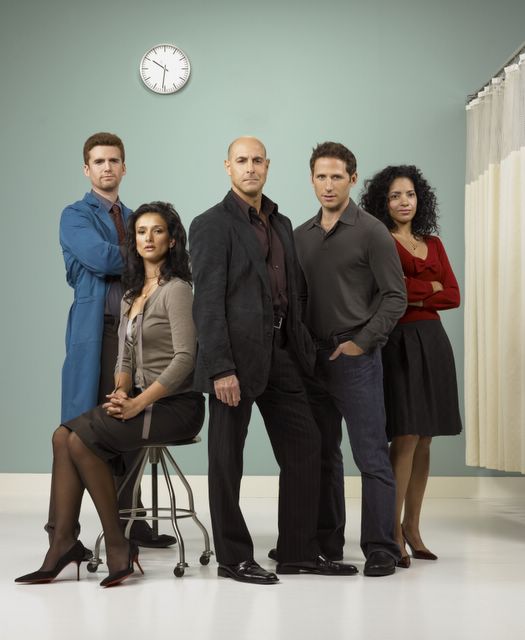 The other night
I blogged about 3 Lbs,
a new CBS medical drama starring Stanley
Tucci
that premieres today on
CBS.com
and Tuesday, November 14, for those still watching TV shows on TV.
I was kind of under the gun to get
that related piece
published, but whilst writing it I emailed Nancy
Eichenbaum
, the lovely lady listed as my photo contact on the official CBS documentation I received.
So nice Nancy emailed me this pic of the
3 Lbs
. crew
lickedty
split, but just after I posted my other blog post.
Anyway, here it is, a living color
3 Lbs
cast photo. They look good, especially that
Tucci
, I must say again.
And since I don't have
Photoshop
yet (I'm reliant upon the lovely
ACDSee
photo editor, which provides tons of blessed free trials to me) I can't find the "File info" credit Nancy pointed me to. I guess "Photo Courtesy of CBS" must do for now.
From left to right we have:
Armando

Riesco
, the pretty British-sounding
Indira

Varma
,
Stan the Man
himself, boyish-eyed and difficult-named
Mark

Feuerstein
, and spiral-haired and take-no-prisoners tough acting
Zabryna

Guevara
.
Here's
Gloria

Garayua
, the fabulous actress who truly stole a scene where she played a blind patient of
Tucci's
who rubbed his face.
And never least (though I don't see her name listed as a series regular, nor as a member of the recurring or guest cast in the stuff CBS sent) is the completely gorgeous biracial Canadian
Tamara Taylor
, whom I'm hoping and praying we get to see lots more of. I think I remember seeing her playing the role of Mike Tyson's wife in some movie, but I may just be mixing her up with a green-eyed biracial actress that really favors Tamara. Anyone know for sure?
Thanks for reading! Feel free to bookmark or

blogroll

me at http://www.paulamooney.blogspot.com/ and drop back in some day to see what I'm up to next. Blessings and love, Paula
Tags:

3 lbs
,
CBS
,
drama
,
premiere
,
stanley
tucci
,
review
,
preview
,
mark

feuerstein
,
indira
varma
,
armando
riesco
,
zabryna
guevara
,
griffin

dunne
,
cynthia
nixon
,
molly

bryant
,
jennifer
ferrin