EthanHaasWasRight.com? New Godzilla Movie Trailers? Cloverfield? Bad Robot? 1/18/08 Release Date? Sneak Previews? -- J. J. Abrams' Online Video Buzz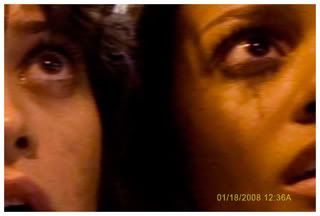 by
Paula Neal Mooney
J. J. Abrams' new movie, called Cloverfield,

Bad Robot
or
the new

Godzilla

movie
is causing a big stir ever since
sneak previews of the Cloverfield,

Bad Robot

or new

Godzilla

movie trailer
were shown recently prior to
Transformers
.
Watching
video clips of J. J. Abrams' untitled movie project temporarily dubbed Cloverfield
, the film does have a freaky
Blair Witch
kind of feel, with the hand-held camera shots making the reality of it all feel so immediate -- as if it could easily happen to us.
(Check here for a better quality
video of the new

Godzilla

movie, Cloverfield, Bad Robot,
or whatever it is!)
Blair Witch
left me feeling creepy and uneasy after I saw it.
When the full
Cloverfield, Godzilla, Bad Robot, or
whatever movie project releases on 1/18/08, I wonder how it will make the world feel?
Some of those scenes seem too reminiscent of 9/11...
Even more mysterious: What does the
Ethan Haas Was Right website
have to do with it all?
Supposedly
EthanHaasWasRight.com
is professional buzz for the
new J. J. Abrams' movie
, which is some kind of puzzling puzzle to play.
Then there's the
EthanHaasWasRight.blogspot.com
and
EthanHaasWasWrong.blogspot.com
blogs that have popped up recently...
And now, mysterious
EthanHaasWasRight.com videos
like this are popping up on YouTube.
Ai yi yi!
Talk about buzzing up a movie in the blogosphere!
It better be worth the buzz...
Watch full and partial episodes of your favorite TV shows and movies online -- all for free!